Ukraine: Cake attack as 'Chocolate War' intensifies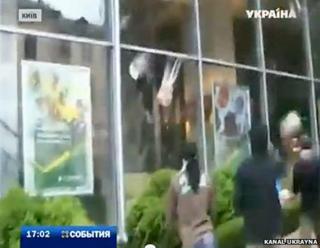 Masked activists in Kiev reacted to a Russian ban on Ukrainian sweets by pelting a bank with cakes.
Moscow's health watchdog has banned imports from the Roshen corporation, Ukraine's largest confectioner, saying its products fall below safety standards. And although Russia's public health chief reportedly denied the "Chocolate War" was political, it didn't appease the Ukrainian far-right Bratstvo - or Brotherhood - group. Kanal Ukrayna filmed protesters hurling baked goods at the windows of the Savings Bank of Russia's Kiev branch, while Bratstvo's leaders demanded Russian bank branches be closed in retaliation.
Neighbouring countries have expressed concerns about Roshen's goods - possibly at Moscow's urging - but experts in Moldova and Kazakhstan reportedly found nothing harmful. Some commentators see this as Russia's first salvo in a trade war with Ukraine, with whom it has an uneasy relationship over energy supplies, and perhaps in retaliation for Kiev's import duties on Russian cars and attempts to set up a customs union. Last year, Russia banned imports of Ukrainian cheese for two months in a row over the use of palm oil as a milk substitute. Kiev claimed the "Cheese War" was the result of Russian farmers' lobbying.
Use #NewsfromElsewhere to stay up-to-date with our reports via Twitter.