North Korea: Two million have mobile phones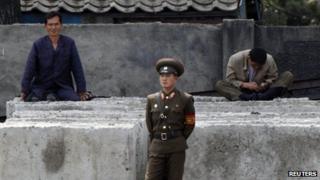 North Koreans may be isolated from the rest of the world, but it seems that they have more chances to talk to one another.
The Egyptian company that holds the mobile phone license for North Korea says there are now more than two million people with mobiles in the country.
Naguib Sawiris of Orascom Telecom told South Korea's Choson Ilbo newspaper that the North hit the landmark figure in May.
After a brief and limited experiment with a Thai company in 2002-2004, North Korea set up Koryolink with Orascom in 2008. Subscribers rose sharply from an initial 1,600 to 500,000 in 2011 and a million last year, the firm says.
Members of the ruling party elite are the main clients. Chinese phones are the most popular, although party grandees prefer Western brands, the paper reports.
At about £100 for a simple phone and £250 for the latest touch-screen model, the technology is far beyond the reach of most of the 24 million North Koreans, who earn an average £580 a year.
The authorities are still nervous of allowing phone contact with the outside world.
International calls are blocked, as are calls with foreigners living in North Korea.
The government offered paid access to its phone network to foreigners in April, only to withdraw it within days as tensions with the South increased.
But journalists visiting the North for the Korean War anniversary celebrations at the end of July were able to use their mobiles to post photographs on social media.
Use #NewsfromElsewhere to stay up-to-date with our reports via Twitter.