BBC clears up Iran president speech confusion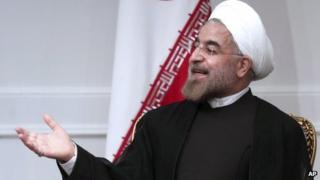 The BBC - not normally the Iranian authorities' favourite broadcaster - has averted a diplomatic row which threatened to erupt between Israel and the new president of Iran.
Shortly before his inauguration, Hassan Rouhani spoke at the annual "Quds (Jerusalem) Day" rally in Tehran, deploring Israel's "occupation of Palestine".
Two Iranian news agencies - ISNA and the relatively new Tasnim - had him say that "Israel is an old sore on the body of Islam that should be eliminated".
The media abroad were quick to pick up on this remark, which echoed President Ahmadinejad's frequent calls for Israel's demise.
Israeli Prime Minister Benjamin Netanyahu said that this belied Mr Rouhani's vaunted reputation as a moderate.
But within hours Iran's Fars news agency reported that the incoming president had made no reference to eliminating Israel. Fars credited the BBC with noticing this during its monitoring of the speech.
"As the number of international reports on Rouhani's distorted remarks increased with every passing moment, the BBC reported the mistake in quotations of Rouhani's comment," Fars said, adding that it was only after the BBC report that the misquotation was dropped.
Iran's state TV later broadcast the speech, confirming that the BBC was right:
"In our region, a sore has afflicted the body of the Islamic world for many years, in the shadow of the occupation of the holy land of Palestine and dear Jerusalem, and this day is in fact a reminder of the fact that Muslim people will not forgot their historic right, and will continue to stand up against aggression and tyranny," said Mr Rouhani.
But ISNA and Tasnim did not give up. Instead they accused the official IRNA news agency of distorting President Rouhani's remarks, which in turn prompted IRNA to threaten them with legal action.
The state news agency sees an agenda behind the ISNA/Tasnim reports, aimed at "making the new government get involved in secondary issues".
Use #NewsfromElsewhere to stay up-to-date with our reports via Twitter.