Pakistan: Bid to ban replica guns for kids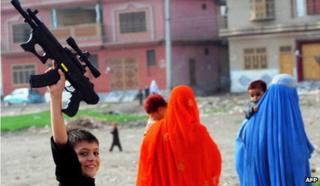 Sales of toys have increased ahead of the Eid al-Fitr holiday in Pakistan, but it seems there are concerns as parents buy accurate replicas of guns for their children.
Replicas of Kalashnikovs, pistols and machine guns, accurate down to the mechanics of loading and firing, are increasingly popular among children, the Express Tribune newspaper reports. While it is common to buy gifts for children during the fasting month of Ramadan, there's dismay that so many replica weapons are being sold, and a campaign has been launched to ban the trend. Campaigner Muhammad Arshad Khan said: "If you are buying the gun, you are training five-year-olds to put a bullet in the chamber and fire shots. After using the toy gun, a child can easily use a real one."
Urging parents to "save their children from gun culture", the group is asking adults to consider buying books and educational items instead, echoing teenage activist Malala Yusufzai's address to the UN: "One pen and one book can change the world".
Use #NewsfromElsewhere to stay up-to-date with our reports via Twitter.