Russia: Pensioners in trouble over "antichrist" comments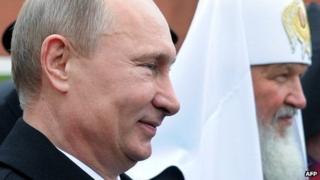 A Russian pensioner couple may be in trouble for criticising the country's powerful Orthodox Church seven years ago, reports say.
Officials in Sverdlovsk have launched an investigation into Petr Tkalich, 64, and Olga, 55, both members of the evangelical Protestant Pentecostal movement, under legislation banning "incitement to religious strife". In two short blog posts in 2006, Petr allegedly accused the Russian Orthodox Church of being sectarian and tolerating anti-Semitism among its followers. Perhaps even more risky were his harsh words for Russia's leaders, whom he dubbed "servants of the antichrist". After a visit by the FSB, Russia's internal security service, the liberal Gazeta newspaper reported Olga as saying: "They told us that if we don't like the motherland, we should leave."
The Orthodox Church has grown in influence under President Vladimir Putin, whose government has presented itself as its defender. Last year, two members of the feminist punk band Pussy Riot were jailed on charges of "hooliganism motivated by religious hatred" after performing an anti-Putin "prayer" in Moscow's main Orthodox cathedral. A new law signed by Putin in July introduced prison terms for "insulting religious convictions and the feelings of believers".
Use #NewsfromElsewhere to stay up-to-date with our reports via Twitter.