Altered Images: Dispute over 'anti-Islam' dog video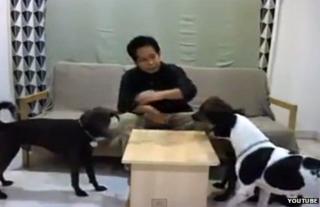 A YouTube video branded "anti-Islamic" because it shows a woman performing an ablution ritual on her pets, has sparked a debate over the status of dogs in Islam.
Malaysian police acted quickly after the video of Maznah Mohd Yusof washing her dogs' legs surfaced on the Facebook timelines of several Islamic NGOs, with one worker apparently urging them to take "stern, drastic action". It comes after a sensitive week or two in Kuala Lumpur, during which a couple of "sex bloggers" were in court accused of insulting Muslims by posting a Ramadan greeting alongside a photograph of them eating pork, and reports suggesting vigilantes were monitoring the web to flag up "sensitive posts". According to independent website Free Malaysia Today, the report about the dog video alleged it was "a grievous insult towards all Muslims in Malaysia", continuing: "It is not right for the concept of ablution, a method for which Muslims clean themselves, to be equated with washing dogs' legs."
The clip shows Maznah walking near a mosque and then feeding biscuits to the dogs. Reports suggest it could earn her between two and five years in prison. Maznah has since been released on bail, Malaysia's Star newspaper says, although the Malaysian Insider website suggests the government has ruled the video to be insulting.
However, on her Facebook page, Maznah points out the video was shot in 2010 and had nothing to do with insulting Islam. She says she loves her religion and was simply reminding people to celebrate Hari Raya - or Eid al-Fitr - with animals as well as humans, reports the Star. It appears the video was reposted by those who found it offensive.
The case sparked debate in the media of this multi-religious country, where the government often defends the Muslim majority from what it sees as malign foreign influence. Deputy Prime Minister Muhyiddin Yassin was criticised for "jumping the gun" by suggesting that "non-Muslims are insulting our religion", before Maznah's identity was known. "She has not even uttered a derogatory word against her religion," says Stephen Ng in the Malay Mail.
Meanwhile, the notion that "dogs are dirty in Islam" does not stand up to scrutiny, according to some. One comment on the Malaysia Chronicle website acknowledges that "for the majority of Muslims, particularly in Malaysia, dogs are impure". However, the author adds there are no negative comments about dogs in the Koran and that various schools of Islamic thought differ on their opinions of the animals.