Venezuela: President faces 'birther' claims of being born in Colombia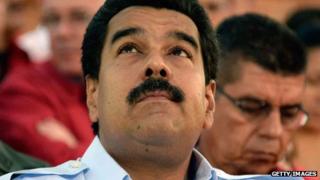 Newly-elected Venezuelan President Nicolas Maduro has become the target of the same campaign that has dogged US President Barack Obama since he assumed office - that he was born outside the country, it seems.
Documents held by a Panamanian official allege that the Venezuelan president was born in the city of Cucuta in the north-east of Colombia, it's been reported. The Estrella de Panama news website quoted the former diplomat as saying that "impersonating a nationality is a felony that deserves immediate imprisonment" and suggested that Colombian authorities should investigate the matter. While the claim was picked up by some Venezuelan opposition figures, the head of Colombia's National Registry, speaking to a radio station in Bogota, said that the document was false and "not in a format we use".
Barack Obama has been the attention of a vocal "birther" movement since he first stood for the US presidency. Campaigners have been undeterred by the public release of a birth certificate issued by the state of Hawaii that proves his US birth, insisting that he was born in Kenya and not eligible for office. According to his official biography, Maduro was born in the Venezuelan capital Caracas.
Use #NewsfromElsewhere to stay up-to-date with our reports via Twitter.