Turkmenistan: Jet skiing authoritarian president uses TV to soften image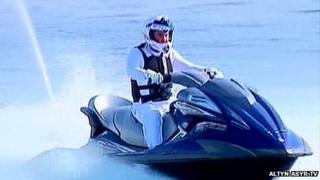 State television in the Central Asian republic of Turkmenistan has aired a report showing the country's president on holiday in attempts to show him as a more liberal leader than his predecessor, it seems.
The report shows President Gurbanguly Berdimuhamedow fishing, cycling and riding a scooter with his grandson, while other footage shows relaxed government officials playing volleyball after being granted 10 days of extra leave for "good performance". Media reports from Turkmenistan show the president's love for horses and motor racing, and portray him as liberal and approachable compared to former leader Saparmurat Niyazov, who ruled the country until his death in 2006 and was regarded as one of the world's most repressive dictators.
Despite its reformist discourse, press freedom group Reporters Without Borders says Turkmenistan has "not yielded an inch" of its totalitarian control of the media, and there was dismay when the singer Jennifer Lopez serenaded Berdimuhamedov with a chorus of "Happy Birthday" at a concert in the country recently. Human rights groups say that despite recent progress, the country remains one of the most repressive in the world.
Use #NewsfromElsewhere to stay up-to-date with our reports via Twitter.