Malaysia: Vigilantes 'monitoring cyberspace'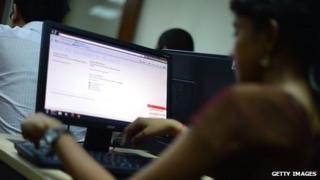 Volunteer "cyber troopers" are monitoring Malaysian internet activity to flag up "sensitive" or "insulting" posts, reports say.
The Sensible and Ethical Malaysians United Troopers (Semut) group is said to have recruited "hundreds" of volunteers in a bid to "promote healthy use of social media". And it appears to have government backing, with Communication Minister Datuk Seri Ahmad Shabery Cheek reportedly saying that with limited police personnel to monitor online activities, Semut's formation is welcome. The group lodged a police report last week against a Facebook user for allegedly insulting the king, official news agency Bernama says. It quotes Semut coordinator Huan Cheng Guan as saying such posts can't be allowed to "pose a threat to the stability of our multi-religious society".
Malaysia's population observes a range of faiths but the government is keen to insulate the Muslim majority from perceived harmful influences. Last month, the New Straits Times reported that Semut filed a complaint over an "insensitive" Facebook post about Prophet Muhammad. Social media users aren't impressed. Facebook group Malaysian Crime Awareness Campaign advises members to follow rules and regulations to "avoid being bitten by Semut". Last week, two "sex bloggers" appeared in court, accused of insulting Muslims by posting pornographic images and a photograph of them eating pork.
Use #NewsfromElsewhere to stay up-to-date with our reports via Twitter.