North Korea: Leader's aunt 'missing for months'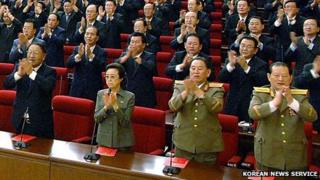 "Madame Kim" - the aunt of North Korean leader Kim Jong-un who's said to wield much power in the regime - hasn't been seen for nearly three months, reports suggest.
Kim Kyung-hee, sister of late leader Kim Jong-il, last attended an official event in May, according to the South Korean newspaper Chosun Ilbo. She'd featured on state TV a month earlier enjoying a concert for troops given by the Moranbong Band, an all-girl pop act put together on her nephew's orders. Both Madame Kim and her husband are said to have retained much influence within the regime. However, when they missed a memorial event to her late father, Kim Il-Sung, it reportedly set off rumours they'd been "purged". But Chosun Ilbo reckons it's more likely she's "critically ill".
Madame Kim previously spent time out of view in mid-2011, which Seoul's Yonhap news agency attributed to her receiving hospital treatment in Moscow. Meanwhile, another family member looks set to take greater prominence. Kim Jong-un's younger sister has reportedly been appointed his "protocol director", acting as chief secretary and overseeing ceremonies, reports South Korea paper Hankyoreh. Kim Yo-jong, 27, is said to have received the same education as her brother in Switzerland.
Use #NewsfromElsewhere to stay up-to-date with our reports via Twitter.