Mexico: Drug lords 'threatened to down president's plane'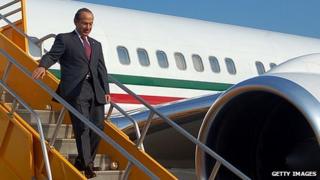 Drug bosses told Mexico's last president they'd shoot down his plane - and police deemed the threat credible.
That's according to reports suggesting Felipe Calderon received at least five death threats during his five-year tenure, which ended last December. Among the suspected culprits is the freshly-captured kingpin Miguel Angel Trevino Morales, nicknamed El Z-40, reports El Universal newspaper. Its sources say Calderon told friends about the threats at a party to mark his 50th birthday last August. Despite being warned his plane could come under attack during a planned trip to Tamaulipas, Calderon went ahead with the flight.
"Before the trip I recorded a message for my children where I told them that in case something happened to me I wanted them to know their dad was doing what he believed in," he's reported to have said. Trevino Morales, 40, headed the notorious Zetas cartel until his capture by Mexican marines near the US border on Monday. Calderon led a high-profile campaign to capture cartel leaders but, by contrast, his successor Enrique Pena Nieto's community-focused approach to enforcement is more low-key and Z-40's arrest was much less trumpeted than previous successes.
Use #NewsfromElsewhere to stay up-to-date with our reports via Twitter.