Africa: 'Anonymous' hackers bid to copy Arab Spring
As seen by...
...BBC Monitoring's Juliet Njeri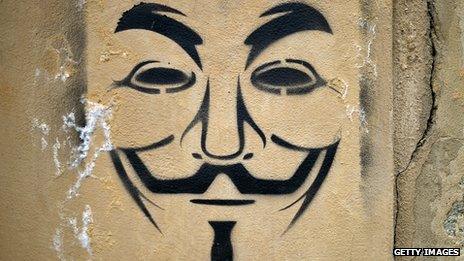 A hacktivist group claiming responsibility for a string of cyber attacks wants to recreate the Arab Spring in Africa, it appears.
Calling itself Anonymous Africa, it's believed to have disrupted up to 50 websites including that of South Africa's ruling party - the African National Congress (ANC) - largely by flooding servers until they crash. The group's blog declares a mission to draw "attention to the crimes and corruption of bad leaders". It runs the @zim4thewin Twitter account, on which it declares: "The African spring has arrived. Down with the dictators! This time for Africa!"
Neither the blog, nor the Twitter account have been frequently updated and the latter has fewer than 1,300 followers. But it hasn't stopped the African press taking the campaign seriously. According to South African media reports, the group briefly disrupted about 50 websites in online attacks between 12 and 14 June. Victims are said to have included Zimbabwe's Ministry of Defence, Revenue Authority and the state-run Herald newspaper.
South Africa's Independent Online media group was attacked over a newspaper commentary praising Zimbabwe leader Robert Mugabe as a heroic African leader, Business Day reported. And the Anonymous group reportedly attacked the Swaziland government website on 24 June, saying the tiny southern African kingdom was run by "a totalitarian lunatic monarchy". Swaziland is one of the world's last remaining absolute monarchies, where royalists argue that democracy creates division.
The group was even said to have disrupted a US site - the Las Vegas Guardian Express - for several hours in response to a report that former South African President Nelson Mandela had died. Some YouTube videos with the Anonymous label also carry messages related to African countries, although it remains unclear whether they're backed by the same people. However, one video published in February on the NEO2012anonymous channel, titled Anonymous #OpSAfrica (South Africa), appeared to declare the group's intentions: "We will shut down political websites in protest. This op will last from 1 February 2013 to 9 December 2013."
Use #NewsfromElsewhere to stay up-to-date with our reports via Twitter.