Iran: Cleric 'claims God sent warriors' to repel Israel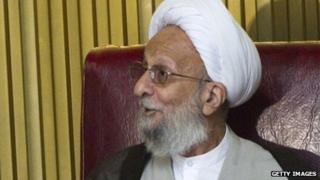 One of Iran's ruling clerics has used a Ramadan lecture to declare that "divine intervention" has helped repel Israeli forces in Lebanon, it's reported.
Ayatollah Mesbah Yazdi - spiritual leader of the hardline Steadfastness Front - claimed God sent sword-wielding "men in white" to help Hezbollah fighters during the 2006 war in southern Lebanon. He was speaking at an ethics lecture in the holy city of Qom to mark the fasting month of Ramadan, the Tabnak news site reports.
Yazdi said Hezbollah leader Hassan Nasrallah had told him that Israel claimed to have abandoned its pursuit of his troops because its soldiers were fought off by these ghostly warriors, Tabnak reported. Yazdi, an influential supporter of Supreme Leader Ayatollah Ali Khamenei, is nick-named "crocodile" - "temsah" in Persion - in a play on "Mesbah". In 2000, a cartoonist was arrested - accused of insulting him - for drawing a crocodile crushing a troublesome writer.
Use #NewsfromElsewhere to stay up-to-date with our reports via Twitter.