Taiwan: Sanitary pad scheme 'to help women conceive'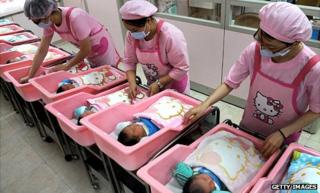 Taipei authorities are to distribute sanitary pads donated by expectant mothers to help others conceive, reports suggest.
Apparently, Taiwanese "tradition" dictates that pregnant women can "share their luck" - increasing another's chances of bearing children - by passing on unused towels or tampons. And the capital's civil affairs department hopes the scheme will boost its birth-rate, reports the Taipei Times. "We hope that Taipei residents who want to get pregnant will be blessed by the lucky pads and that their wishes will come true," it quotes department commissioner Huang Lu Ching-ju as saying.
City staff have some experience in the matter, it seems. One district office director - who's nine months gone - reportedly says she received such "wonderful blessings" from friends soon after marrying. "I hope that female residents who want to get pregnant will be blessed through this activity," she adds. Taiwan's birth-rate fell to the lowest in the world in 2011 but rebounded thanks to government programmes, and with the help of the "auspicious" Year of the Dragon in 2012, according to government news site Taiwan Today.
Use #NewsfromElsewhere to stay up-to-date with our reports via Twitter.