Tunisia: Artists 'targeted for offending morals'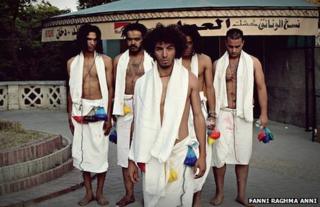 Artists in Tunisia are increasingly finding themselves in the dock for "offending morals" as Islamist influence grows, it seems.
Street-performance troupe Fanni Raghma Anni (My Art in Spite of Myself) were the latest targets when Salafist extremists disrupted a play about the murder of left-wing activist Chokri Belaid. Titled They Killed Him, it follows the widely-held line that Islamists were to blame. But the hardliners were reportedly more angry at the actors being partially naked. After an exchange of blows in the town of Kef, the performers were arrested and 15 ordered to appear in court, the Tunisian Business News website reports.
However, the public prosecutor ended up coming to the group's defence, ordering an investigation into the attack that would treat them as victims, reports Tunisia Live. Their lawyer, Ghazi Mrabet, told the website a decision on pressing public indecency charges, which carry a six-month prison sentence, was postponed. Artists jailed recently include cartoonist Jabeur Mejri - for posting naked caricatures of the Prophet Muhammad on the web - and rapper Ala Yaccoub. Known as Weld El 15, he was jailed for two years over a song entitled Police are Dogs. His sentence was later reduced to six months suspended.
Use #NewsfromElsewhere to stay up-to-date with our reports via Twitter.