Colombia: Army 'finds 21,000 roadside bombs' in six months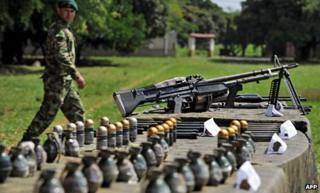 Some 21,155 bombs have been planted on roads, bridges and in schools in Colombia this year, it's reported.
And they're just the ones its army has found. The figures - contained in a summary of the country's military operations - showed how "thousands of lives were put at risk" by rebel groups, according to the Cali-based El Pais newspaper. It said the military seized 509 assault weapons, 474 revolvers and 391 pistols, as well as decommissioning 172 mortars and 23 rocket-propelled grenades.
The government recently opened peace talks with left-wing rebels from the Revolutionary Armed Forces of Colombia (Farc), aimed at ending five decades of civil conflict. However, President Juan Manuel Santos refused a ceasefire. The army "removed from combat" some 1,221 Farc members since January - killing 178 of them - along with 82 from the Marxist Army of National Liberation and another 200 drug traffickers, the report says. The Medellin-based Colombia Reports said last week the army had discovered a Farc weapons factory capable of producing some 200 mortars per month.