Indonesia: President 'bullied' on Facebook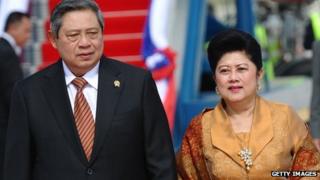 Indonesia's president complained about being "bullied" on Facebook, just a day after launching his fan page.
The press team of Susilo Bambang Yudhoyono - known as SBY by the Indonesian media - signed him up to the social network, along with YouTube and Google Hangout, on Friday, reports the Jakarta Post. And, having attracted almost 100,000 fans within 24 hours, the president declared in his first Facebook post: "I want to be able to communicate more with my fellow Indonesians." He thanked all his followers for their input but added: "Sometimes I am being bullied."
He later posted a poem dedicated to his wife, who celebrated her 61st birthday on Saturday. By Wednesday morning, SBY's page had amassed nearly 250,000 "likes". However, he still has some way to go to match the 2.7 million followers his @SBYudhoyono account has on Twitter.