US: Government releases spoof al-Qaeda video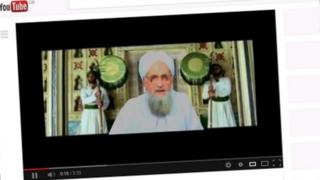 The US has released a spoof video starring al-Qaeda leader Ayman al-Zawahiri.
Taking the classic preaching-to-camera format, the three-minute clip features a voiceover in which the Egyptian-born militant repeatedly bungles his speech by saying things like: "The butchers, ahem, sorry, I mean the mujahideen". In the video - issued by the US State Department's Digital Outreach Team - al-Zawahiri is backed by punkah-wallahs. The clip then cuts to a shot, as though from behind the speaker, to reveal a troupe of dancers performing in front of him.
According to the Associated Press news agency, the 50-member Digital Outreach Team tweets, posts Facebook updates and uploads video to YouTube in Arabic, Punjabi, Somali and Urdu, in a bid to counter the radical jihadist message. It seems it's even had exchanges with terror suspects such as US-born militant Omar Hammami, a former member of Somalia's al-Shabab. After the US recently announced a $5m bounty for Hammami's arrest, he responded on Twitter: "As I'm a bit low on cash, how much is my left leg going for?" Digital Outreach replied, in Arabic: "Why don't you start with [cutting off] your head and then do jihad without your head? It's clear that you don't use it anyway".
The team's al-Zawahiri spoof opens with a notice that "fizzy drinks should be consumed while watching this production" - a twist on the usual message at the beginning of al-Qaeda videos saying "it is not permitted to add music to this production". The video is illustrated with clips of bombings in Iraq and executions in Syria, with the voiceover saying ordinary Iraqis hate al-Qaeda because of it "blowing up their schools, markets and hospitals". However, the spoof al-Zawahiri says the organisation hopes to remain in Syria "to sever more heads - er, I mean wage jihad - and impose our ways on Syria and its people".