Weekend Edition: The week's best reads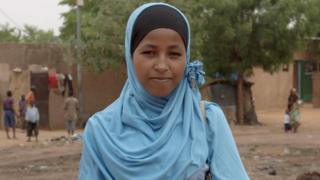 A collection of some of the best features from the BBC News website this week, with an injection of your comments.
"Such an inspiring story: reminds me to be grateful," commented Felicity Taylor. Balkissa Chaibou dreamed of becoming a doctor, but when she was 12 she learned she had been promised as a bride to her cousin, which would have meant an end to her studies. Being one of five daughters, her family in Niger may have seen the decision as financially sensible, but Chaibou took her parents to court to fight for her rights.
The girl who said 'no' to marriage
Decline of liver
"Fascinating look at how eating habits have changed," tweeted Imogen Birt. People in the UK hardly eat liver any more. Purchasing of offal has fallen 92% since 1974. In that time, the amount of takeaway pizza bought per household shot up 1,000%. One thing has stayed the same, though: the nation's preferred form of potato remains the chip. "Convenience foods are driven by perceived lack of time and perceived ease of cooking," says one expert.
10 ways the UK's eating habits have changed
Afternoon delight
Lovers are checking into rooms and not staying the night in the city of love, and around the world. The proliferation of such behaviour has been helped by hotels becoming available for shorter stays in daylight hours and, crucially, at a cheaper price. "This way we can have a couple of hours of intimacy in the middle of Paris, maybe with a bottle of champagne," says Elise (not her real name) who uses daytime hotels with her boyfriend.
The rise of the 'afternoon delight' hotel booking
Number unavailable
"Nice article," posted John Grant. There are still around 47,000 phone boxes on Britain's streets, which seems astonishing given that 93% of people now own a mobile phone. In the past decade, payphone usage has declined by more than 90%. But some groups, including the elderly, still depend on them.
What happens to the UK's least-used phone boxes?
Chained for being ill
"Mental patients here are seen as possessed by the devil or victims of witchcraft," says Gregoire Ahongbonon, a former mechanic from Benin, who has helped thousands of West Africans affected by mental illnesses. The problem is particularly acute in Benin, the country which is regarded as the home of voodoo, where healers and preachers are sought to purge such "evil spirits".
The man who frees people chained for being ill
Recommended reads from elsewhere
Twitter Is Not a Failure - The Atlantic
The head with no body - and no answers - The Daily Beast
Savile Row Sex Parties: Inside One of London's Suit Fetish Nights - Vice
Subscribe to the BBC News Magazine's email newsletter to get articles sent to your inbox.