Weekend Edition: The week's best reads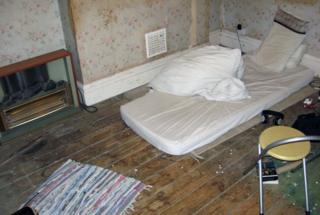 A collection of some of the best features from the BBC News website this week, with an injection of your comments.
"Sounds risky, but strangely exciting!" posted Caroline Jessop. Property guardians live in buildings including disused police stations, garages, office blocks and pubs. But some come with a catch, namely rats, flies and no hot water. We look at the practice which is the setting for Channel 4's new sitcom, Crashing. "The room I moved into was strewn with clothes and heroin paraphernalia and I had to clean it up alone," says one guardian.
The downside of being a property guardian
Women in love
"Such inspiring resilience - she deserves happiness," tweeted Jane Coope. In 2013, Sanjida left home to study, and she fell in love. But her partner was another woman, and same-sex marriage is not accepted in Bangladesh. When the couple ran away from their conservative provincial town, the father of Sanjida's partner went to the police and asked them to bring his daughter home. Now Sanjida is accused of abduction. "If my country ever legalises same-sex marriage, I'll be the first one to come forward," she says.
Arrested after falling for another woman
Food unfairness
"Great insight," commented Laura Tilt. "I have always watched what I eat," writes Trust Me I'm a Doctor's Saleyha Ashan, "and yet I never seem to shift the weight, while friends seem to eat what they want without putting on a single bulge. I teamed up with another volunteer of the same gender and age - Leila. For the next week, Leila and I did and ate exactly the same things together. A fortnight later when our results came through I could not have been more flabbergasted."
Why do people put on differing amounts of weight?
First lady
"She had guts... Good read," commented Patrick Milford. "If they don't give you a seat at the table, bring a folding chair." So said Shirley Chisolm, who is by no means a household name in the US. A desire to break boundaries was what drove this pioneer for her generation to make a run for the presidency in 1972, seeking the Democratic nomination a mere three years after she became a congresswoman. "I met more discrimination as a woman than for being black," she once said. "Men are men."
Before Hillary Clinton, there was Shirley Chisholm
One to watch
"Lovely, inspiring story about the family who rescue and re-open old cinemas," tweeted Mark Clark. It started out with a mother who had a passion for film. Amanda Mundin rescued a small, dilapidated cinema in the Derbyshire town of Belper, re-opening it to great fanfare at the heart of the community. Now, she, with the help of her two sons and other relatives, is on cinema number three.
The family who save unloved cinemas
Recommended reads from elsewhere
Ain't No Grave Gonna Hold My Body Down - Vice
The chicken shop mile and how Britain got fat - The Guardian
Subscribe to the BBC News Magazine's email newsletter to get articles sent to your inbox.