Weekend Edition: The week's best reads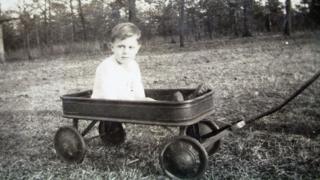 A collection of some of the best features from the BBC News website this week, with an injection of your comments.
"A really lovely read that gives me hope for growing old," tweeted Helen Ellis. Donald was sent to an institution at the age of three. Born in 1933, he was different to other children, with whom he would not play, often echoing the words of others. "We were astonished to learn how his life had turned out," write the authors of a new book about the 82-year-old, who is living in a small town in the southern United States.
The surprising story of the first boy diagnosed as autistic
Roast fat
"This article gave me a case of the meat sweats," commented Wes Williams. The traditional Tongan diet is fish, root vegetables and coconuts, as you might expect for a palm-fringed island in the middle of the Pacific. But the arrival of fatty turkey tails and mutton flaps has led more people to desert these dietary staples. One consequence is that life expectancy, which was once in the mid-70s, has fallen to 64. "You have a situation where fishermen spear their fish, sell it, and go and buy mutton flaps," says one resident. "People don't have the education to know what is bad for their health."
How mutton flaps are killing Tonga
Cold War paranoia
A ban on gay men and women serving in MI5, MI6 or GCHQ was in force as recently as 1991. Fast forward 25 years and MI5 tops Stonewall's 2016 list of the 400 best places to work for lesbian, gay, bisexual and transgender people. "Queer men were thought to be untrustworthy because of their queerness," says one expert. "They were vulnerable to blackmail because the law offered them no protection." But according to another commentator, the experience of living in the closet may have made some gay people into very good spies: "They could keep secrets, and tell lies."
The era when gay spies were feared
Backhanders
The world tennis authorities have admitted they took no action to pursue 28 top-level players, including winners of Grand Slam titles, named in a secret 2008 report into suspected match-fixing. All were allowed to continue playing and a third were flagged up again after playing in more suspicious games. The revelation is contained in a cache of documents obtained by the BBC and BuzzFeed from tennis insiders.
The Tennis Files: Have top players been paid to lose?
His boy John
"Fascinating article," tweeted Haileybury History. Author Rudyard Kipling spent four years searching for his lost son, John. After being barred from the navy because of his poor eyesight, the teenager joined the infantry, in the 2nd Battalion, Irish Guards, before disappearing. The reputation of the man behind The Jungle Book has suffered in the 80 years since his death - but in his time he was the most-read writer in the English language. "I can't think of a single modern writer except perhaps JK Rowling who was anything like as popular," says one expert.
Solving the mystery of Rudyard Kipling's son
Recommended reads from elsewhere
The Huskies of Aviemore - The Atlantic
From Pickup Artist to Pariah - New York Magazine
Subscribe to the BBC News Magazine's email newsletter to get articles sent to your inbox.