2015 Edition: The year's best Magazine reads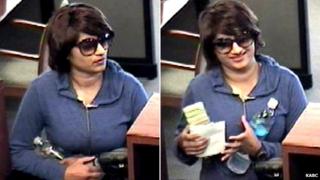 A collection of some of the best features from the BBC News Magazine this year, with an injection of your comments.
Michael House found this story so "enthralling" he missed his bus stop. It's the tale of the Bombshell Bandit aka Sandeep Kaur. The nurse's life changed at the age of 21 when she reached the legal drinking age. A trip to Las Vegas led her down a path of spiralling debts and eventually she ended up robbing banks. The "strangest, most incredible real life story I've read in a long time", tweeted Claire Lagan.
The rise and fall of the Bombshell Bandit
Instant co-operation
"So heart touching. Thank you for that story," tweeted JB Morris Jr. "The pure Angelic part of humanity," posted Andrew Dunne. It even piqued the interest of former White House intern Monica Lewinsky. The whole episode, which had drawn in bystanders from all around, was over in just a few minutes. A hundred people, none of whom knew each other, coming together to help a man trapped under a double-decker bus. The leg of unicyclist Anthony Shields was under the wheel of a route 212 bus at a busy junction in east London when the crowds came forward. "[It was] almost like working towards a mutual goal but unknowingly, without actually communicating it across," says one of those who came to help.
Red River mystery
"Captivating report," commented Steve Lindenau. Each year, dozens of Canadian Aboriginal women are murdered or disappear never to be seen again. Some end up in a river that runs through the heart of Winnipeg. In one of our most popular immersive stories, told through text, images and video, Joanna Jolly goes on the trail of the murdered and missing.
Missing Joyce
"So touching," posted Gracias Onuh. When Malaysian flight MH17 was shot down over eastern Ukraine in July 2014, the BBC's Natalia Antelava was soon reporting from the scene. Standing amid the debris, she was handed one of the victims' documents by a local man. Although she passed the papers on, the name of the passenger stayed with her - Joyce. Natalia's decision to find the woman's relatives led her to the Dutch town of Breda, where Joyce's sister is still waiting for answers about the crash, and for the return of one important personal item.
A tale of two sisters and flight MH17
Mine terror
"Great read written with a lot of affection and really places you in the mine," tweeted Barry Byrne. Who in their right mind would take a 10-year-old boy down a working coal mine? And yet that's exactly what happened to Bernard Hare, who recalled the experience of going down a pit in Methley, a village near Castleford. The value of that trip underground would only dawn on him years later.
How my father gave me a terrifying lesson at 10
Recommended reads from elsewhere
Blood Ties - New Yorker
The Man Who Flies Around the World for Free - Rolling Stone
The Journey: A refugee's odyssey from Syria to Sweden - The Guardian
Subscribe to the BBC News Magazine's email newsletter to get articles sent to your inbox.