Weekend Edition: The week's best reads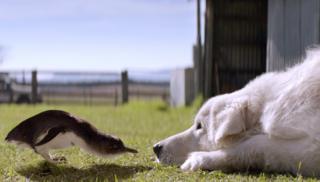 A collection of some of the best features from the BBC News website this week, with an injection of your comments.
"Feel good story of the day," tweeted Richard McClenaghan. The little penguins of Australia's Middle Island were in trouble. They'd been discovered by foxes from the mainland and faced being wiped out. The predators had got such a taste for them that they reduced the population from 800 to about four. But then a chicken farmer came up with a plan. Fluffy Maremma dogs were trained up as penguin guards. Think Lassie meets Babe meets Pingu. What's not to like?
The dogs that protect little penguins
The wrong man
"What a superb example of storytelling," commented Steve Downes. "Expertly written and beautifully presented." Robert Jones was jailed in the 1990s for killing a young British tourist in New Orleans. It was a crime that another man had already been convicted of but Jones was prosecuted anyway. He was given a life sentence. "It's like I've been having a nightmare for more than 23 years and I'm still waiting for someone to wake me up," he says.
Robert Jones: Locked up for 23 years - when the real killer had already been jailed
Branded v generic
"A great article," said Fiona Gaw on twitter. "I find this stuff really fascinating!" The manufacturer of a leading brand of painkiller has been accused of misleading customers in Australia. A court said that their packaging had made it look as though they'd been formulated to treat different types of pain when actually they were all identical. The removed tablets were much pricier than the brand's standard painkiller. "You're paying for the marketing essentially and the shiny box," argues one expert. There are similar price gaps between branded painkillers and their generic versions. So why do people keep buying expensive painkillers?
The strange psychology of pain relief medicine
Dark stories
This story is about the murders of three different women. Their cases form part of a film called Love You To Death which looks at all 86 women in Britain who were killed in 2013 by their husband, boyfriend or ex-partner. The words in the film are not spoken by actors. Each woman's story is told through the voices of their families and friends. "All she wanted was to find someone and be in a relationship and be loved," says one sister.
The stories behind three different murders
Laughing stock
"Interesting article," tweeted Tom Bridges. It's been 30 years since the Advanced Passenger Train carried its last passengers. The APT had a brief life and was vilified as a waste of money. But did it in fact change the world? "The APT is a symbol of good ambition that crumbles as the politics change around it," says one expert.
APT tilting train: The laughing stock that changed the world
Recommended reads from elsewhere
The mystery of India's deadly exam scam - The Guardian
Medical mountaineers - The New Yorker
How the Mast Brothers fooled people into paying $10 a bar for mediocre chocolate - Quartz
The divorce colony - The Atavist
Subscribe to the BBC News Magazine's email newsletter to get articles sent to your inbox.