Caption Challenge: Swimming Santa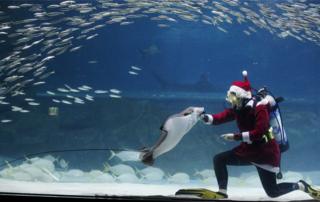 Winning entries in the Caption Challenge.
The competition is now closed.
This week a diver dressed as Santa feeds a stingray.
Thanks to all who entered. The prize of a small amount of kudos to the following:
6. Al Smith:
Oh, jingle bells, jingle bells, jingle all the ray.
5. Edward Bell:
Sandy Claws knew the fish were expecting him - they'd hung reefs on the door.
4. Mark Esdale:
Nick, I said "feed the reindeer" not "feed the ray, dear".
3. Dave Cotterill:
Santa arrives down the first chimney in Keswick.
2. Helene Parry:
Santa misreads his correspondence and sets about stocking fillets.
1. Alon Shulman:
Climate change was making the job increasingly difficult.
Full rules can be seen here
[16KB]
Follow @BBCNewsMagazine on Twitter and on Facebook