Weekend Edition: The week's best reads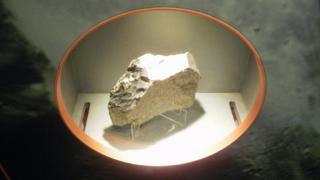 A collection of some of the best features from the BBC News website this week, with an injection of your comments.
It's Christmas Eve 1965. In the small village of Barwell, the carol singers are out in force, preparations for the big day are well under way and, completely unexpectedly, the biggest meteorite to hit the UK arrives. Fifty years on, the search for fragments continues. "It's the debris from the birth of our solar system," says one expert. "It's no wonder people keep a piece of it tucked away in a box."
The hunt for the Christmas meteorite
Abandoned couches
Each year thousands of tonnes of perfectly good sofas are thrown away and can't be given to families who want them. The lack of a fire label can be enough to send a sofa straight to the landfill site. It's estimated that more than 50% of those that could be sent to a new home instead have to be scrapped just because they don't have the correct labels. "It seems like such an easy thing to fix," says one expert. "And yet it is nobody's responsibility to fix it, so it is not happening."
Does the UK have a problem with old sofas?
Lodger squabbles
Live-in landlords are on the increase. On the surface, it might seem like a good arrangement for both parties, but dig a little deeper and tensions over communal areas and etiquette can quickly arise. "I'm allergic to cats, which results in a nasty reaction around my eyes, but when I was away, the cat had come into my room and sat on my pillow," says Emma, who lived as a weekday lodger with a mother and daughter in Eastbourne while studying. "When I confronted the landlady, I was told 'It's the cat's room'."
The return of the live-in lodger
The Bridge
"Excellent read," tweeted Kate C. Saga Noren is being lauded as a rare depiction of a woman with Asperger syndrome, a form of autism. Although the writers of the Scandinavian TV crime drama The Bridge have never confirmed she has the condition, with series three now underway in the UK, it seems increasingly likely she does. She is seemingly content with changing her clothes in front of office co-workers, and asks and answers questions with often excruciating honesty. Such behaviour has unwittingly made her a role model to other women.
How The Bridge's heroine became a role model for women with autism
Beyond 'he' and 'she'
"A good starting point for the confused," tweeted Dawn Hazle. For people who identify as neither male nor female, "he" or "she" doesn't always fit. That's why a growing number of US universities are supporting the use of gender-neutral pronouns. Some have even updated their computer systems in ways that allow students to register their preferred pronouns - with choices including "they" and "ze".
The rise of non-binary pronouns
Recommended reads from elsewhere
The fall of Jersey: how a tax haven goes bust - The Guardian
The divorce colony - The Atavist Magazine
This Australian says he and his dead friend invented Bitcoin - Gizmodo
Subscribe to the BBC News Magazine's email newsletter to get articles sent to your inbox.