Caption Challenge: Victorian dolls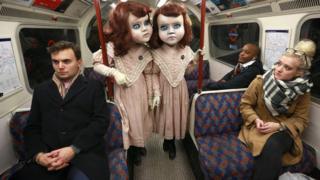 Winning entries in the Caption Challenge.
The competition is now closed.
This week, two Victorian dolls travel on the London Underground.
Thanks to all who entered. The prize of a small amount of kudos to the following:
6. Nigel Kenward
"When we got on, this was a brand new carriage."
5. Simon Clouting
"Is this the right line for Dollis Hill?"
4. Jack Harris
Man on left: "Did I leave the iron on?"
3. Carl Allport
"It's horrible - they're like zombies, staring right past you with those cold, lifeless eyes," whispered the dolls.
2. Patrick Friel
Must be on the pick'a'dolly line.
1. Richard Best
"You said we had to get dolled up to travel around London."
Full rules can be seen here
[16KB]
Follow @BBCNewsMagazine on Twitter and on Facebook