Weekend Edition: The week's best reads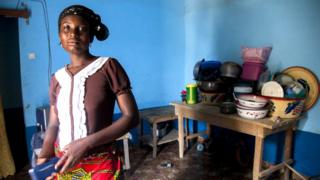 A collection of some of the best features from the BBC News website this week, with an injection of your comments.
"Really great reporting. Fascinating, and sad," commented Heather Roach. This is a story about women in Burkina Faso who sometimes wait years, even decades, for their husbands to come home. Men from the town of Beguedo often go to Italy to find well-paid work but they leave their wives and children behind. In the latest of our immersive stories told using videos, pictures and text, we consider how a community survives when husbands and wives live thousands of miles apart.
Mother of two
"Every woman needs to read this!" emailed Rose. "I was pretty sure that my two living, breathing daughters would suffer if I had a third baby," writes an anonymous mother. "My five-week-old foetus could have developed into a baby which might be alive today, but we genuinely did not think we could give that baby the love, stability, and support it needed. We stand by that decision today and, I have to say, give very little thought to the abortion or to the baby that might have been."
Viewpoint: 'Why I chose to have an abortion'
Ghost houses
More than 200,000 homes in England are long-term unoccupied - that is to say, empty for more than six months. Tens of thousands of properties in Scotland and Wales fall into this category. The phenomenon known as "buy-to-leave" where rich investors, often from abroad, purchase property and leave it empty, is compounding the country's housing crisis. "It's about whether property is regarded as a home or an asset," says one property expert.
Why are so many British homes empty?
Kerb rage
The UK has been arguing over a national ban on pavement parking for more than 40 years. Could a new bill finally put a stop to the fighting? "There are a number of ridiculous things about pavement parking," explains one expert.
Are the great pavement parking rows finally coming to an end?
Chicago 'cover up'
"Great read," posted Mani B. This is a story about the power of a whistleblower - an anonymous informant brought about the sacking of Chicago police superintendent Garry McCarthy. The mystery source had seen dashcam video which showed a police officer shooting teenager Laquan McDonald 16 times, killing him. The city agreed to pay the family a $5m (£3.3m) structured settlement, which included an agreement not to release their copy of the footage. But that didn't stop journalists from revealing what had happened.
How a whistleblower brought down Chicago police chief
Recommended reads from elsewhere
White Debt - New York Times
Stopping slurping - The Economist
Is there a way to read books faster? - The Atlantic
Fat-shaming cards are simply parroting what the media does - The Pool
Subscribe to the BBC News Magazine's email newsletter to get articles sent to your inbox.