Caption Challenge: Turkey toy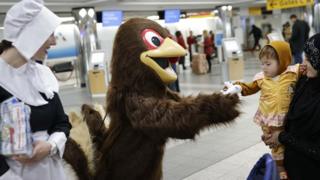 Winning entries in the Caption Challenge.
The competition is now closed.
This week a turkey hands a toy to a toddler at an airport in New York.
Thanks to all who entered. The prize of a small amount of kudos to the following:
6. Steve Wadlow
Like most Turkeys he always liked to get away at this time of year.
5. Paul Spinks
'Vote No To Christmas' campaigner reaches out to a traditional opponent.
4. Michael Collins
Catering confusion, as the child had asked for "plain turkey".
3. Susan Wood
Is it a bird? Is it a plane?
2. Tom Gibbons
"Mummy, are you sure he's a pilot? I don't think he knows how to fly."
1. Christian Sperber
Meet your on-flight meal before take off.
Full rules can be seen here
[16KB]
Follow @BBCNewsMagazine on Twitter and on Facebook