Weekend Edition: The week's best reads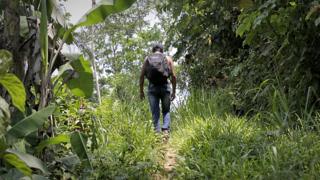 A collection of some of the best features from the BBC News website this week, with an injection of your comments.
"Must-read," tweeted Laurence Blair. It's one of the most perilous jobs in the cocaine industry - mochileros, or backpackers, smuggle thousands of kilograms of coca over Peru's mountains, risking death from ambush or falling off narrow paths into rivers 800m below. In the latest of our immersive stories told using videos, pictures and text, we follow the groups of young backpackers risking their lives in cocaine valley.
Blaming myself
"Brilliantly-written cautionary account of ignoring diabetes," tweeted Kellie Anderson. "I was walking down the stairs at home when it hit me like the proverbial sledgehammer - I would be blind," writes Leonie Watson, who lost her sight in her 20s after disregarding doctors' advice about her diabetes for years. "I remember once demolishing a keyboard I could no longer use, and kicking the hell out of the Hoover because the cable was so caught up around the furniture I couldn't untangle it. And there were those days, too numerous to count, when I bruised, cut, scratched or burned myself while doing everyday tasks, and the rage and the tears would overwhelm me all over again."
'I went blind and feel partly to blame'
The other crisis
"Searing story from Greece," tweeted New Zealand's former Prime Minister Helen Clark. "It is lucky this one has fully decomposed," says gravedigger Petros as he begins gathering up human remains. "I was a bit worried you might have to see something nasty." In Greece, people are having to dig up their loved ones just three years after burial due to a shortage of graves. The country has no crematoria and with many cemeteries already overcrowded, bodies are regularly exhumed and the bones moved.
Why Greeks are exhuming their parents
Hot air
"Really good observations," posted Olga Ojeda. "It's the 21st Century equivalent of Latin being recited to the public in church a thousand years ago," says Dave Powell, co-host of the environmental podcast Sustainababble. As world leaders prepare to meet at a climate change summit in Paris, we assess whether the jargon used to describe such issues actually hinders rather than helps people's understanding.
Is there a danger to environmental jargon?
Shopping herd
There are lots of tricks that can be used to increase someone's need to buy something. Old prices will be crossed out and new prices displayed in a much bigger, brighter font. There might be spotlights on particular displays that are placed near walkways to make them hard to miss. As Black Friday fever sweeps shoppers across the UK as they battle for bargains ahead of Christmas, we look at this phenomenon in more detail.
Why do people act the way they do on Black Friday?
Recommended reads from elsewhere
The serial swatter - New York Times
The interrogator's soul - Aeon
The strange death of Louis XIV - The Spectator
Subscribe to the BBC News Magazine's email newsletter to get articles sent to your inbox.