Caption Challenge: Eye on the ball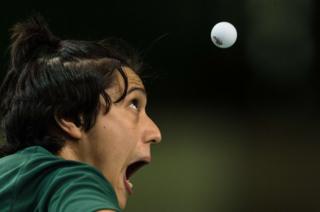 Winning entries in the Caption Challenge.
The competition is now closed.
This week, a Brazilian player focuses on the ball at a table tennis tournament in Rio de Janeiro.
Thanks to all who entered. The prize of a small amount of kudos to the following:
6. JJ Parki
"Should I head it, or eat it hole in one?"
5. Andy Carnie
"So it's true what they say about sneezing with your eyes open!"
4. Paul Keenan
I've heard of a detached retina but this is ridiculous!
3. Dave Burkhimsher
Exaggerated wink goes horribly wrong.
2. Simon Lightfoot
The course for the egg and spoon race was controversially bumpy this year.
1. Catherine O
Helicopter parents keep tabs on teenagers with new Eyeball (TM) technology.
Full rules can be seen here
[16KB]
Follow @BBCNewsMagazine on Twitter and on Facebook