Caption Challenge: Gorilla jockey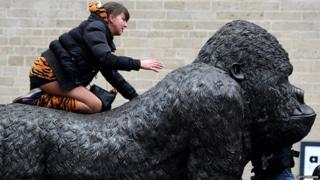 Winning entries in the Caption Challenge.
The competition is now closed.
This week, a reveller perches on the back of a gorilla statue as the carnival period known as "Fifth Season" gets under way in Cologne, Germany.
Thanks to all who entered. The prize of a small amount of kudos to the following:
6. James
"Are you sure you've got four stars on Uber?"
5. Michael Gibson
Planet of the japes.
4. Vince
The dating agency had got Corinne's request for a 'strong dark silent type' totally wrong.
3. Dorothy Brown
"So, just whereabouts is the itch?"
2. Phil Smith
Green activists propose the use of gorilla warfare.
1. Simon McCarten
"I always travel by gorilla. Helps that I get primates rates."
Full rules can be seen here
[16KB]
Follow @BBCNewsMagazine on Twitter and on Facebook