Small Data: How much would you have won backing McCoy?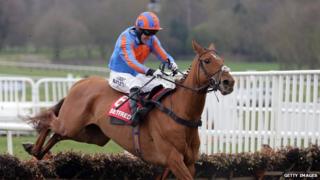 Tony McCoy has been the dominant jockey of a generation and is expected to be crowned champion jockey for an extraordinary 20th time before he retires next month, writes Anthony Reuben.
Do you remember the film Back to the Future 2? In it, a character called Biff takes a copy of Grays Sports Almanac 1950 to 2000 and gives it to his younger self in 1955, who makes a fortune gambling with it.
If you could go back in time armed not with a book of sporting statistics but the knowledge that AP McCoy would be the top jockey for two decades, what could you win?
You'd have done very well on an accumulator betting that he would be champion jockey 20 times, but you would have had to wait ages for the money.
How about if you'd gone back to 2000 and decided to put £1 on him to win every race he rode in?
Bad news I'm afraid, according to this website, you'd have lost £1,743.63.
If you could have remembered to only back him when he was racing at Sandown, Ascot and Leicester you could have made a decent profit, but hardly enough to cover whatever you'd had to spend on the time machine.
Over his career he has won about one in four of the races he has entered. This season he's actually above his average win rate at 28%, with 223 winners so far.
But you'd still have lost more than £100 backing him in every race. In fact, there are hardly any jockeys you would make money backing blindly (they're the ones with a plus next to their level stake).
I suppose the problem is that once you've been champion jockey a few times you get to ride better horses and the bookmakers start setting the odds accordingly.
Subscribe to the BBC News Magazine's email newsletter to get articles sent to your inbox.