WW1: A baby called Somme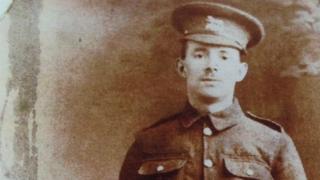 On 20 March 1917, a baby girl was born in Northfleet, Kent, and given a name heavy with history - Somme, writes Mark Sanders.
She's carried that name throughout her long life, in memory of the father she never knew.
Her birth certificate records her full name: Tiny Somme Gray. "Tiny" was her mother's nickname, "Somme" marks the tragedy that tore through the family. Her father Herbert Gray was killed in the Battle of the Somme just five months before her birth.
Tiny Somme Gray, later to become Hammond, has just turned 98 and lives in a care home in Gravesend.
She explains how some people react to her name: "There's a name, they say. What you got that for? My father was killed on The Somme, that's why. Oh, they say, I wouldn't want to be named after that."
Every time she signs her name or sees it on an official document, she's reminded of her father. "Every time, whenever I have to put my name Tiny Somme. I'm very proud of it, always have been."
Herbert Gray's wife Emma thought he wouldn't be called up to fight because of his job at a cement works. But Herbert left this important wartime industry to earn more money at a paper mill. He was eventually conscripted in 1916 and while on leave in June that year, his daughter was conceived. Pte Herbert Gray of The Sherwood Foresters was killed four months later - one of 420,000 British casualties in the battle.
One German officer, Friedrich Steinbrecher, wrote of the bloodbath: "Somme. The whole history of the world cannot contain a more ghastly word."
Herbert's widow Emma never talked about his death with her daughter and never really explained why she called her only child Somme. "It's a very special name I said to my mum. Well, she said, you can't forget your name."
As a little girl, Tiny Somme was sometimes teased by children for having a name "out in France". In 1923, when just six, she was at the unveiling of the Northfleet War Memorial, where her father's name is inscribed. Her mother would never go there.
And yet, she gave her daughter a name that would act as a living memorial to the man who would never return from the Somme.
Subscribe to the BBC News Magazine's email newsletter to get articles sent to your inbox