What workers hate about TV depictions of their profession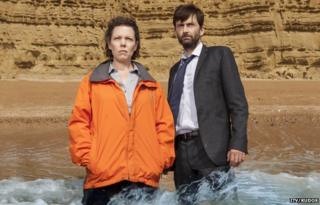 Broadchurch's portrayal of the legal process has irritated lawyers. They complained that the murder trial started within weeks of a not guilty plea, and of witnesses being allowed to watch before giving evidence. But what do other professions hate about their portrayal, asks Tom de Castella.
In Mad Men, Don Draper wins over Kodak with a moving pitch about the firm's new slide projector, using photographs of his wife and young family. "This is not a spaceship, it's a time machine," he says. "It goes backwards and forwards, and it takes us to a place where we ache to go again." His audience are overcome. Draper's colleague Harry Crane starts sobbing and has to leave the room. Kodak immediately cancels its meetings with other agencies.
Advertisers hate television's portrayal of the "genius pitch", says Chris Arnold, founder of the agency Creative Orchestra. Creative directors are depicted as supremely confident auteurs with the gift of the gab, he says. But in reality they are delegators calling on the skills of others. Neither are "creatives" always confident speakers, nor do they use folksy personal stories. And colleagues don't well up when listening to a pitch, he says.
Then there's the finding of the idea. "They always portray it as that wonderful moment - 'that's it, that's the idea!' It's never like that." Instead creatives split up into teams and come up with hundreds of ideas and the best one is chosen.
Plumbing is also beset by inaccurate cliches on TV, says Charlie Mullins, founder of Pimlico Plumbers. "You often see a plumber with their head under the sink, on their knees. They just stay there frozen." In reality they would be moving around, getting tools and trying to fix the problem. Costume departments put them in bibs and braces. They look like painters rather than plumbers, he says. And the tools are wrong. They get an adjustable spanner and a screwdriver. "You can't install a bath with that," Mullins says. In real life they have a van so can carry a heavy toolbox. The jargon is also wrong - plumbers don't talk about U-bends, they'd call it a "trap", he says.
General practitioner Dr Sarah Jarvis has a particular bugbear about medical dramas. "In Peak Practice, the GPs did nothing in between surgeries apart from playing golf or seeing patients at home." The reality for Jarvis is five hours of paperwork a day. Her other pet hate is the way A&E is depicted. "Someone has a cardiac arrest, George Clooney bashes their chest and the patient is fine." That might happen to a young, fit person, but it is not what happens to the majority needing cardiac resuscitation. The Times' Dr Mark Porter says doctors are never busy enough in medical dramas. Doctors amble around, chatting to patients about their relationships, whereas in real life their bleep would be going off and they'd be trying to do five things at once. And on the other hand TV radically compresses life and death. "In drama the patient goes from dead to fine in seconds and minutes. Whereas in the real world people are very ill for hours and days."
What do films and TV dramas get most wrong about your job? Email the.magazine@bbc.co.uk using the subject line: job gripes. Or tweet @bbcnewsmagazine including #theyneverdothat