The secret history of Special Brew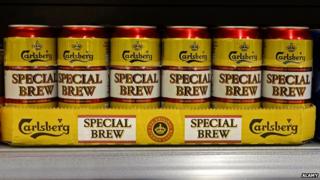 Long associated with problem drinkers, Special Brew could now have its alcohol level reduced. But will it alter the super-strength lager's reputation, asks Jon Kelly.
It was first brewed in honour of Winston Churchill. Today "Spesh" or, as it is often referred to in headlines, "tramp juice", is most commonly associated with getting drunk incredibly cheaply. Now Special Brew - which at 9% ABV contains 4.5 units of alcohol per can - will become less potent in 2015. Brewer Carlsberg says that it will sign up to a UK government-led pledge that no drink should contain more than four units, a man's maximum recommended daily intake.
It would be an ignominious fate for a beer whose tin proclaims that it comes "by appointment to the Royal Danish court". Carlsberg says Special Brew was first brewed to commemorate Churchill's 1950 visit to Copenhagen, incorporating "cognac flavours among its tasting notes" in deference to the wartime prime minister's fondness for brandy. The novelist Kingsley Amis was also a fan, mixing it half-and-half with regular Carlsberg pilsner and praising its ability "to create goodwill". It was also immortalised in a top-three hit for ska-pop band Bad Manners.
The brand enjoys 37 million UK off-trade sales each year, says Chris Wisson, senior drinks analyst at Mintel. But recently super-strength lager has come under fire for its social impact. One homeless charity compared such drinks to crack cocaine and, in an effort to tackle anti-social behaviour, shopkeepers have agreed not to stock them in parts of Westminster and Suffolk. Spurred by such complaints, the government raised duty on beers over 7.5% in 2011. InBev, manufacturer of Special Brew's rival Tennent's Super, has already said it will reduce its cans from 500ml to 440ml in order not to exceed four units.
No decision has yet been taken on whether to shrink the cans or ABV of Special Brew and Skol Super, also brewed by Carlsberg UK, but Bruce Ray, the company's corporate affairs director, says it wants to create a "responsible drinking environment". The pledge offers an opportunity to reshape the brand's image. But although the craft beer boom created a market for artisan high-ABV drinks, trends in alcohol sales indicate that, increasingly, "most drinkers want something a little less strong", says Wisson. Who knows what Churchill, an enthusiastic consumer of Pol Roger champagne, would make of it all.
Subscribe to the BBC News Magazine's email newsletter to get articles sent to your inbox