Small Data: What are the chances of snow at Christmas?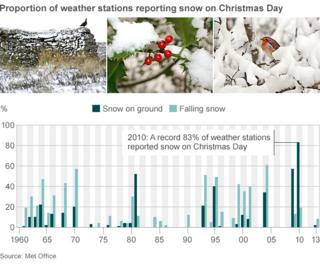 Are you still dreaming of a white Christmas, asks Anthony Reuben.
If so, you probably don't want to know this nugget from Mark Wilson, a meteorologist at the Met Office: "There's a higher chance of getting snow over Easter in the UK than there is at Christmas."
He says that between 1981 and 2010 there were an average of 3.9 days with sleet or snow falling in the UK in December, compared with 4.2 days in March.
Now I'm not 100% sure I believe this because presumably snow is more likely to fall at the end of December when Christmas is and at the beginning of March, which would generally miss Easter, but that's what the Met Office says. The point is that snow is pretty unlikely at either festival.
Oh dear. Then again, I last wrote about how unusual snow is at Christmas in the UK five years ago in 2009, and that article was published two days before the snowiest Christmas since records began, which was beaten a year later by an even snowier one.
But recent blips aside, snow at Christmas is unusual. January and February are usually colder months than December. The Met Office has reliable figures showing what proportion of weather stations reported either snow falling on Christmas Day or snow lying at 09:00 on Christmas Day going back to 1959.
In 31 of those 57 years, fewer than 1% of weather stations reported lying snow, while in a further 10 years fewer than 5% of stations did so.
In only three years - 1981, 2009 and 2010 - were more than half of stations reporting snow lying.
But if you think of a white Christmas as being one when there is snow falling, 25 of those years would have seen no snowfall anywhere in the country, while only 1993 and 2004 saw more than 50% of stations report snowfall.
And I'm afraid it's looking pretty unlikely again this year. I got a forecast from the Met Office on Friday morning, which is six days in advance, so still a bit sketchy.
They currently reckon that the country is going to be a bit colder than average but with plenty of sunshine. Most of the snow will be above 200m (650ft) and in northern parts of the UK.
Mark Wilson says he thinks that even without much snow, cold, crisp, sunny weather is more suitable for Christmas than the "horrible, cloudy, mild" weather we've had on 25 December for the past few years.
If you're thinking about having a flutter on snow there are plenty of bookmakers that will take your bet.
The bet will be on a specific city and the bookmaker will select a specific location in the city, which is usually an airport. Why an airport? Well they tend to have observers and weather stations there, and you'd hope they're paying close attention to what the weather is like.
They'd have to be paying close attention, because the bookies have to pay out if a single flake of snow falls in that location during the day.
"White Christmas is a bit like the Grand National - it's a good bet for your once-a-year punter," says Jessica Bridge from Ladbrokes.
"Odds are shorter than perhaps they should be because lots of people bet on it for romantic reasons."
On Friday morning, the shortest odds from Ladbrokes were for Aberdeen at 7/4, followed by Glasgow and Edinburgh at 2/1.
You will find different odds at other bookmakers - the longest odds I could find for UK snow were 8/1 being offered for Penzance by William Hill.
"With the odds quite short, you're not going to pay for Christmas with it," Bridge says.
So if Christmas snow is so unlikely, why do we all imagine we spent our childhoods throwing snowballs at each other and building snowmen on Christmas Day?
Well, five years ago I put it down to the "Little Ice Age", a period of global cooling that ran between about 1550 and 1850, which had a great influence on classic literature and traditional Christmas card designs.
But since then we've had two extraordinarily snowy Christmases. The snow in the run-up to Christmas 2010 was so severe it had a proper effect on the economy (as opposed to the made-up effects that you see in the headlines every time a few flakes of snow fall in London).
The Office for National Statistics said that it had knocked half a percentage point off economic growth for the quarter, which is a lot of lost growth.
That was because shopping centres had been forced to close the weekend before Christmas and people had cancelled Christmas parties.
So while you will see lot of shops, restaurants and bars with fake snow in their windows, they might secretly be pleased that we're unlikely to see much of the real stuff in the next week.
Subscribe to the BBC News Magazine's email newsletter to get articles sent to your inbox.