Caption Challenge: Goosing around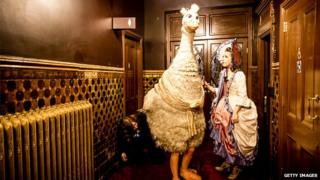 Winning entries in the Caption Challenge.
The competition is now closed.
This week Priscilla The Goose waits to enter the auditorium during a performance of Mother Goose at Hackney Empire in London.
Thanks to all who entered. The prize of a small amount of kudos to the following:
6. Lin Vegas:
"Break an egg darling."
5. Cindy Accidentally:
"Of course you'll get applause - they won't say boo to a goose."
4. Douglas Mitchell:
"...and to think I turned down Pinter at Guildford Rep..."
3. Richard Lawton:
The panto producer had misunderstood the theatre management's demand: "We don't want a turkey like last year."
2. Brian Saxby:
"There isn't a great demand for Keith Harris impersonators but I like to keep my hand in."
1. Francis O'Shaughnessy:
"What you doing at Christmas?"
"Four hours in a moderate oven. Yourself?"
Subscribe to the BBC News Magazine's email newsletter to get articles sent to your inbox.