Caption Challenge: Fiery demon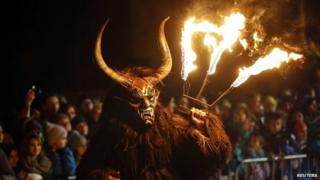 Winning entries in the Caption Challenge.
The competition is now closed.
This week it's a man dressed in a traditional Perchten costume and mask performing during a festival in the western Austrian village of Huben.
Thanks to all who entered. The prize of a small amount of kudos to the following:
6. Lesley Gilchrist: "Gas lighters three for a pound."
5. Paul Cadley: "I'm smoking more but enjoying it less."
4. Mark S: "I've always served my scallops burnt and I always will - I don't care what Gordon Ramsay says."
3. David Mullen: Alice Cooper's mother is in town for an overnight stay.
2. Alan John Boyer: "...and this is how I remove unwanted hair."
1. Robert Barker: Lady Gaga's design for the 2016 Olympic torchbearer outfit unveiled.
Subscribe to the BBC News Magazine's email newsletter to get articles sent to your inbox.