Weekendish: The best of the week's reads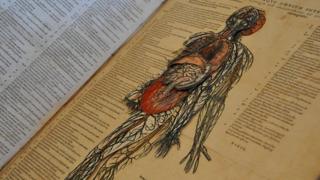 A collection of some of the best reads from the BBC News website this week.
Andreas Vesalius - what a guy. Medical man, ambitious and a wonderful self-publicist. Vesalius, who was born in Flanders in 1514, came from a family of doctors. At an early age, he had his eye on the prize - to become the personal physician to the Holy Roman Emperor, Charles V. There was a small problem, though. His father was regarded as illegitimate, which blighted Vesalius junior's career prospects. Undeterred, he created the ultimate CV - two gorgeous books on the workings of the human body, with images created using woodblock techniques. One was dedicated and presented to the emperor himself. Employment in the imperial service soon followed. You can see the beauty of the books yourself and discover why they caused a stir in this photo film by Paul Kerley.
The self-publicist whose medical text books caused a stir
Trying to get arrested in North Korea
Now here's another man who seemed intent on causing a stir. American tourist Matthew Miller travelled to North Korea in April - apparently on holiday. Once there, he seems to have gone to extraordinary lengths to get himself arrested and imprisoned - even though the North Korean authorities tried to put him on the first plane out of the country. What could possibly have been his motive? When questioned by one interviewer he replied that he "just wanted to have a face-to-face with North Koreans to answer my personal questions" - and he seems to have thought it would be easier to do this behind bars. As the interviewer put it, he was a "curious tourist".
Trying to get jailed in North Korea
The fascination with Charles Manson
Murderous cult leader Charles Manson continues to fascinate more than 40 years after he committed his crimes. This week it was reported that Manson, who's spent more than half of his 80 years in jail, has been granted a licence to marry a 26-year-old woman. In the late 60s and early 70s, he incited several of his followers to carry out a murder spree in Los Angeles. For many at the time, the Manson murders were the point at which the hippie dream of free love came to a sudden end. As one interviewee told the Magazine: "Manson took on all those signs - LSD, music, free love, communal lifestyles - and reframed them as tools for apocalyptic mass murder. Totally bizarre, totally evil, and very, very seductive."
What explains the continuing fascination with Charles Manson?
The great Victorian beard craze
The beard has long been part of Charles Manson's look. But it's nothing compared with these fellas pictured here. It all began during the Crimean war. The winters were so harsh that the erstwhile clean-shaven British army relaxed its rules about facial hair, and soldiers were allowed to grow beards to keep their faces warm. When they returned from the conflict, the beard had acquired a savour of heroism and civilians were quick to mimic the fashion. Soon it was barely possible to see a beard-free male face in Victorian Britain. But the choice to abandon razors wasn't purely a matter of appearance - shaving in those days could be a risky business, with a simple nick on the chin having been known to kill.
The great Victorian beard craze
Free food at work
"Will work for food" was always the cry of the desperate would-be employee. But some companies actually do provide meals as well as money, as Justin Parkinson and Luke Jones reported in their article on the latest trends in workplace perks. Big tech is leading the way, - Google, Facebook and Apple provide food and drink for their workers (although as one commentator said, the ultimate aim of such a policy is to keep the employee in the office). We also heard from a British advertising firm, which transforms its office into a cocktail bar, come Friday afternoon. This is an idea which goes down especially well with Magazine readers on Facebook, although Leah Powell rues, "I am my own boss... and I never serve myself cocktails at 4:30 on Friday. Other readers' expectations are very much lower: "Where I work they give us free toilet paper," writes one.
Does free food make for a happier office?
Knitted aliens and a cat
Did the Soup Dragon give the Clangers free green soup? For many people of a certain age, the sound of a Swanee whistle is enough to transport them to the small moon-like planet that was home to the pink-knitted aliens. And those forty-somethings will be overjoyed to learn that the critters are to be resurrected in a new TV series. But what about that floppy, tough old cat Bagpuss, who came from the same animation stable? "We're pretty definite that we don't want anyone to remake Bagpuss," says animator Peter Firmin. But why? And what about the mice on the mouse-organ? "We will find it/ We will bind it/ We will stick it with glue, glue, glue." Oh yes we will.
What's the future for Bagpuss?
Here are some things we've enjoyed this week from elsewhere around the web:
The interview everyone is talking about: Jaden and Willow Smith on Prana Energy, Time and Why School is Overrated - The New York Times Style Magazine
This is what I learned when I stopped drinking for a week - Buzzfeed
The world's tiniest countries and the eccentrics who rule them - Wired
This is why kids in London do better in school - Quartz
I walked around London, knocked on strangers' doors and asked if I could stay the night - Vice
Subscribe to the BBC News Magazine's email newsletter to get articles sent to your inbox