Caption Challenge: Surfing Santa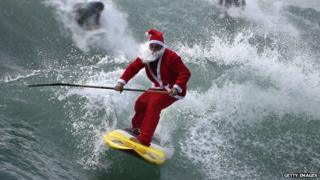 Winning entries in the Caption Challenge.
The competition is now closed.
This week it's a surfer dressed in red.
Thanks to all who entered. The prize of a small amount of kudos to the following:
6. Lelystad:
"Venice Christmas market was known as eBaywatch."
5. Brian Nisbet:
"Rudolph? Rudolph? Rudolph?!?"
4. Ken McGuirk:
"Rudolf confirms constructive dismissal case will go ahead as evidence mounts against Santa."
3. Dr James Muir:
"With only five weeks to go to Christmas, the Elves were having some concerns about Santa's work ethic..."
2. Ben Gardner:
"Keanu denies that 'Christmas Point Break' is just another seasonal cash in."
1. Ciaran Malkin:
"Hawaii 5-ho-ho-ho."
Full rules can be seen here
[16KB]
Subscribe to the BBC News Magazine's email newsletter to get articles sent to your inbox.