Who, What, Why: Is Beaujolais Nouveau making a comeback?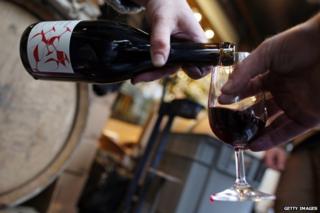 Beaujolais Nouveau Day was once a national event in the UK. Is it making a comeback, asks Justin Parkinson.
It's as much a part of 1980s folklore as massive mobile phones, shoulder pads and personal organisers. On the third Thursday of every November the City of London was awash with celebrations for the arrival of Beaujolais Nouveau from France.
Getting hold of the recently pressed, light red wine as quickly as possible became an annual event. It was usually served chilled.
The Beaujolais Run meant teams competing to be the first to get the first case of Nouveau from Paris to London. One year it got even more "Eighties" than normal, the winner being a Harrier jet. Bars, restaurants, pubs and off-licences held tastings, sometimes lasting all day, as events spread around the UK.
"Sales of Beaujolais Nouveau reached a peak in the late 1980s," says Anne McHale, master of wine at Berry Bros and Rudd. "It was a huge success based on marketing. But it declined in the 1990s when too many producers jumped on the bandwagon and the quality declined, getting weaker and more acidic."
McHale says focusing on Nouveau damaged the reputation of Beaujolais's better-quality products, in the way "Blue Nun did with German wines". Only now are people starting to return to other Beaujolais, which are often sold under the names of individual villages, such as Fleurie, she adds.
Japan is the biggest export market for Nouveau, buying almost 60 million litres last year. UK interest might not be at its peak, but something seems to be stirring. Last year the country imported 2.27 million litres - more than two and a half times the amount for 2012. Marks and Spencer, which launched a "carbon-neutral" version of Nouveau, reported a 300% increase in sales.
The celebrations have always been commercially motivated. Beaujolais, a sub-region of Burgundy north of Lyon, started promoting its freshly pressed wines as "Nouveau" in 1951. The release date was moved ahead of those for rival wines to maximise publicity. The uncorking of bottles just after midnight became a cause for street parties.
The run to London started after wine writers Clement Freud and Joseph Berkmann held a wager in 1970 over who could get it across the Channel first. This is still going, although competitors vie to transport it via the shortest route rather than in the shortest time, to ensure road safety.
"Nouveau has improved," says Beaujolais Run director Rob Bellinger. "Because of global warming the wine has been getting better every year. In the old days really it was like drinking vinegar."
One place that's never tired of Beaujolais Nouveau Day is Swansea. "It's like a national holiday," says Becky Oliver, owner of the city's No Sign Wine Bar. "Everyone has the day off. It's always been quite big but it's growing every year."
So, with UK sales increasing, is it on the up again? "I would be pretty confident in saying that this doesn't represent a future trend," says McHale. "It's more likely to be the result of a temporary spike in retro-nostalgia. Or perhaps this entire volume is being consumed by Swansea?"
---
More from the Magazine
The wine drought that never was
English wine: Is sparkling wine better in England than France?
Why are the French drinking less wine?
Will China ever be a wine superpower?
---
Subscribe to the BBC News Magazine's email newsletter to get articles sent to your inbox.