Caption Challenge: Giant shoe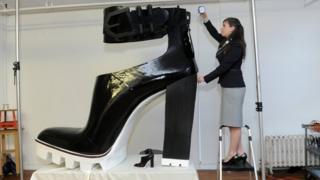 Winning entries in the Caption Challenge.
The competition is now closed.
This week it's the world's largest high-heeled shoe, according to Guinness World Records.
Thanks to all who entered. The prize of a small amount of kudos to the following:
6.Tim Hawes:
"Prince Charming sought. Must have own lorry."
5. Rodcar:
"Do you do the same in brown?"
4. Mark Slade:
"Another disappointed customer regrets buying their new shoes on the internet."
3. Nigel Meek:
"Postmodernist reinterpretation of the map of Italy undergoes EU scrutiny for accuracy."
2. Michael Stewart:
"Before the 'Old Woman' moves in next week, the council need to confirm that the shoe meets modern housing standards."
1. Eamonn Riley:
"Katie Hopkins' manager prepared to try desperate measures to try and stop her putting her foot in her mouth again."
Full rules can be seen here
[16KB]
Subscribe to the BBC News Magazine's email newsletter to get articles sent to your inbox.