Ad Breakdown: Sainsbury's WW1 Christmas truce advert.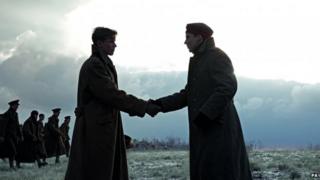 Christmas supermarket adverts used to show a paper-hatted extended family, lashings of mince pies, copious tinsel, and an inordinately large turkey. But this year's Sainsbury's offering rewinds 100 years to dramatise the Christmas truce of 1914, writes Tom de Castella.
It starts with the boom of artillery. It's night and British soldiers huddle in the trenches. Snow is falling. A Tommy opens a parcel from home - out falls a woman's photo and a bar of chocolate. The Sainsbury's Tommy - for it is he - smiles. Silent Night rises eerily - at first in German and then in English. The Sainsbury's Tommy pokes his head above the trench and after momentary tension - will they shoot? - the two sets of soldiers are in No Man's Land playing football and chatting.
The protagonist hands his chocolate to a German called Otto and in return receives what looks like a piece of hardtack biscuit. In the distance the guns rumble, both sets of troops return to the trenches, and the rousing score morphs into meditative piano. "Christmas is for sharing," flashes up on screen, followed by the familiar orange Sainsbury's logo, and finally "Made in partnership with the Royal British Legion".
Some have seen it as a massive counter-offensive against John Lewis after their penguin and boy blockbuster. While John Lewis had opted for "a mawkish story about a lonely penguin" using CGI, Sainsbury's had created a moving memorial based on lots of historical research and austere production values, one newspaper review said. But for another it was a "dangerous and disrespectful masterpiece".
Rory Sutherland, vice-chairman of Ogilvy Group UK, says Sainsbury's probably decided there was little point trying to outdo John Lewis. Instead it's opened up a new front in the ad wars. It's risky, Sutherland suggests. There's always going to be a certain number who feel you're using millions of deaths to "sell wrapping paper", he says. But most people will like it. "It's a healthily oblique way to do a Christmas advertisement" that sells "the spirit of Christmas".
There were powerful emotions on Twitter.
"I know, I know: capitalism etc but still: *sobs* #sainsburyschristmas" Angela Clarke tweets.
Matt Henry opined: "The Sainburys Christmas ad should win an award. Sorry John lewis you don't even come close."
"Great ad, beautifully made AND doing good," says Chris Arnold - a reference to the £1 chocolate bar that will be sold in aid of military veterans.
There were plenty of naysayers too.
It "shamelessly exploits a moment of genuine humanity during #WorldWar1 to get us to buy more stuff" writes Chris Hudson.
Above a photo of the Tommy shaking Otto's hand, Gareth Dimelow writes: "What say we put aside our differences and get every customer to spend an extra ten shillings?"
Tim Footman moves the Anglo-German struggle from the trenches to the supermarket aisles: "Subtext of the #sainsburyschristmas ad: poor Germans, they only have Lidl and Aldi."
As the guns fall silent incongruity appears to have won the day, Alison Dunn tweeting: "Yes, the ad is nicely made but horrid orange sign at the end makes me fear Jamie Oliver will pop up in the trench."
Subscribe to the BBC News Magazine's email newsletter to get articles sent to your inbox.