Caption Challenge: Stop Hassel-ing me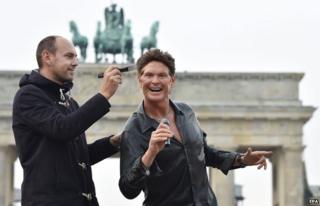 Winning entries in the Caption Challenge.
The competition is now closed.
This week a man tends to a wax model of David Hasselhoff, which has travelled from Vienna to Berlin for the 25th anniversary of the fall of the Berlin Wall.
Thanks to all who entered. The prize of a small amount of kudos to the following:
6. Ed:
"I was working on a waxwork of the Hoff last... week... oh, wait..."
5. Kate Alley:
"Stick a fork in him, he's done."
4. David:
"The chest wig got held up at customs."
3. John Cassidy:
"Just looking for the 'on' switch."
2. Colin Plews:
"If you pull his finger you get a waft of scented candle."
1. Iain Cameron:
"There were also downsides to the fall of the Berlin Wall."
Full rules can be seen here
[16KB]
Follow @BBCNewsMagazine on Twitter and on Facebook