Weekendish: The best of the week's reads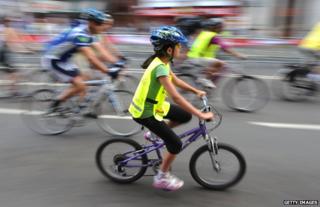 A trio (or tricycle?) of cycling pieces for you this week.
The statistician Jamie Jenkins looked into the huge fall in the number of deaths among cyclists in the past 80 years. Magazine writer (and cyclist) Tom Heyden considered some factors such as helmets, high-vis vests and flashing lights, which may or may not life easier on two wheels. And Chris Boardman from British Cycling explained why he wouldn't let his eight-year-old daughter cycle on the road.
On Facebook you have been suggesting some ways to make cycling more safe. Michael Miller says "simple teaching of how to use the road would be a good start". Lee Bruce thinks there should be "compulsory insurance" and James Durrant thinks "allowing cyclists to ride of the pavements in clearly marked lanes would remove them from the more dangerous roads"
Would these five changes actually help cyclists?
Viewpoint: 'Why I won't let my eight-year-old cycle on the road'
The real X-Files
Some travels of a more intergalactic variety now. France is the only country in Europe to have an UFO department tracking unexplained sightings (and don't scoff - the UK had one until 2009). Most of the submissions may come from smokers puffing away outside bars and looking into the night sky but more than 30,000 people a month visit their website to see some of the UFO sightings regularly sent to them. For the most part, alien light circles are just car light reflections and UFO crafts are kites, but there are a few cases still to be explained.
Why the French state has a team of UFO hunters
My evil dad
What do you do when you find out your dad is a serial killer? Melissa Moore's father, the "Happy Face Killer", murdered eight women and is now serving consecutive life sentences. Here she talks of his enjoyment at torturing animals, his views about women and his compulsion to drop hints about his crimes. She also explains the impact her father's crimes had on her - and her thoughts on whether he would have killed her as well.
My evil dad: Life as a serial killer's daughter
Home Front
This week we looked at how some of England's historic sites were repurposed during World War One for more practical uses. Tudor castles were defending the nation once again and country houses began acting as convalescence homes. Even Stonehenge became the centre of the world's largest military camp. Have a listen to English Heritage's Senior Historian Paul Pattison explain some of the pictures from their new exhibition and see why some early casualties were playing croquet on a lawn in Wrest Park.
How Stonehenge site became the world's largest military training camp
Human trade
Between 1964 and 1989 billions of deutschmarks were quietly paid by West Germany to rescue political prisoners held in the East. Gavin Haines told the story of how Daniela Walther, her mother and father were caught hiding in a shed by guards, trying to flee just hours before the Berlin wall was erected. Her father was imprisoned and tortured but then sold by the East German authorities for much-needed hard currency. His wife and daughter soon joined him in the West. Daniela tells of the effect these events had on her family.
East Germany's trade in human beings
Can you land on a comet?
The European space agency is about to launch their mission to land on a comet in deep space. Having travelled for 10 years over more than 6 billion km, the fridge-sized Philae lander will leave the Rosetta spacecraft for Comet 67P/Churyumov-Gerasimenko. But how would you fare? Have a go with our interactive comet landing game.
Rosetta Mission: Can you land on a comet?
And if all of that wasn't enough, here are some smaller bites for you to enjoy...
A look back at the last 10 years of burning effigies in the East Sussex town of Lewes, a cunning penguin's attempt to get you to buy soft furnishings and what a 100-year-old M&S devotee thinks about their current range.
We also look into whether everyone is born scared of heights and why a diplomat might mysteriously sign off a letter, "Love to Patrick".
Here are some things we've enjoyed this week from elsewhere around the web:
How one woman stumbled into a violent uprising in Yemen - PRI's The World
One Day in an Elevator With Obama, Then Out of a Job - The New York Times
This is Google's incredibly simple hiring formula - Quartz
The ecstasy and agony of Prince Naseem Hamed - Britain's forgotten icon - Vice
I'm suddenly going to be 'black' again - This is Africa
The City That Gave Its Residents $3 Million - Atlantic
Subscribe to the BBC News Magazine's email newsletter to get articles sent to your inbox
Weekendish was compiled by Luke Jones