Have there been lions in London since 1210?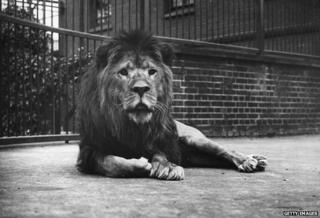 The decision by London Zoo to build a new lion exhibit means its three remaining lionesses will be temporarily relocated to Whipsnade Zoo in Bedfordshire. Can this, as reports suggest, be the first time since 1210 that the UK capital will be without lions, asks Harry Low.
Ruby, Heidi and Indi will in November leave London until 2016, while a new home is built for them. It may mark the first time the capital has been without lions since the 13th Century, says Sally Dixon-Smith, curator of collections at the Tower of London.
"You can't prove there's always been a lion at the Tower of London but the aim was always to have a lion," says Dixon-Smith.
The earliest sign that there were lions in London are records of payments being made to lion-keepers in 1210 when King John began the Royal Menagerie. But the first definitive record of lions arriving is in 1235, says Dixon-Smith. This was when Roman Emperor Frederick II gave three lions to England's King Henry III on marrying Henry's sister Isabella.
The animal had an important cultural significance as a symbol of the King. Lions, sourced from North Africa, were often received as diplomatic gifts and the Tower's lion population grew because lions are able to breed in captivity.
But it isn't clear that there is an unbroken period of lions in the Tower. It is thought that during Henry VI's reign, in 1436, all of the lions died, although this is hard to verify.
Conditions were "pretty grim" at the Royal Menagerie, which existed from the 13th Century to the 19th Century, and certainly not like a modern zoo, says Dixon-Smith. There was one notorious incident in 1830. A member of staff mistakenly raised the wrong door, allowing a lion and a Bengal tiger and tigress to meet. They were separated after half an hour by using heated rods to poke the mouth and nostrils of the tigers but the lion later died.
By the time of World War Two, the lions had moved to London Zoo. There is nothing to suggest they were moved out of the capital during the Blitz, a zoo spokesman says.
"The fact that lions are going to become locally extinct in London is really ironic because lions in both Asia and Africa are almost on the precipice" said David Field, zoological director at London Zoo.
Subscribe to the BBC News Magazine's email newsletter to get articles sent to your inbox.