Why do people overshare online?
Magazine Monitor
A collection of cultural artefacts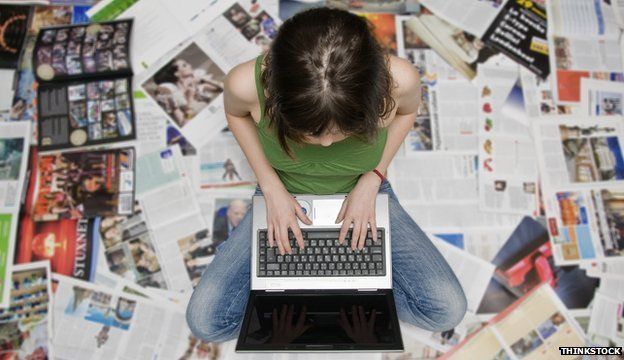 "Overshare" has been chosen as Chambers Dictionary's word of the year beating "bashtag" and "photobomb". But what is oversharing and why do people do it, asks Luke Jones.
Chambers define overshare as being "unacceptably forthcoming with information about one's personal life" and say the word was chosen because of its ability to be a "subtle, yet devastating; a put-down few would want laid at their door".
Social media is where a lot of oversharing occurs. "Research examining interactions between people who have just met has shown that self-disclosure is often greater online than face-to-face," says Gwendolyn Seidman, a professor of psychology. She argues that those who share more are seeking validation from others.
In 2012, the television personality Chantelle Houghton tweeted details of her break up from the boxer Alex Reid. "Oh and yes when I was 8 months pregnant Alex turned my house into a sex dungeon and I slept on my flat floor for days," she tweeted.
In July, a spreadsheet compiled by a frustrated husband of all his wife's excuses for refusing to have sex with him was leaked by his wife after he emailed it to her. "My husband has sent me an immature, inflammatory email as I was driving to the airport for a 10-day work trip," she shared with users of the social network Reddit.
But Sunday Times columnist Katie Glass says there is no such thing as oversharing. "We have an obligation to share the rubbish stuff otherwise it looks like we're all just having a good time watching sunsets and sipping champagne," she says.
Depictions of perfect lives online, for example, can be disingenuous, she says, such as "Elle McPherson, with her perfect instagram account, saying she lost her baby weight running around after her children."
Glass cites Angie Jackson, who live tweeted an abortion she had, as a form of oversharing which helps others. "These things are seen as shaming. The more we say these things happen to people, the easier it will be for others." Jackson live tweeted and recorded a video of her abortion in an attempt to "demystify abortions for other women".