Do US presidents carry cash and credit cards?
Magazine Monitor
A collection of cultural artefacts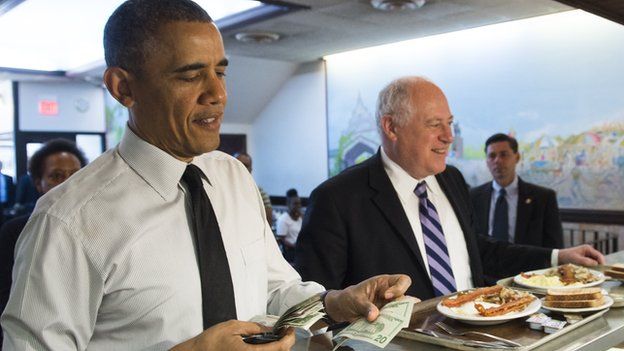 President Barack Obama's credit card was rejected in a restaurant. How often do US heads of state spend their own money, asks Jon Kelly.
It's commonly said the Queen doesn't carry cash. It seems her American counterpart doesn't get his wallet out too much either. Barack Obama told an audience that his credit card was rejected in a New York restaurant last month: "It turned out, I guess, I don't use it enough." During his term in office, Bill Clinton once had his credit card rejected too.
In the 1995 film The American President, Michael Douglas's commander-in-chief attempts to buy flowers but is told his cards are "in storage with the rest of your private things". It's a similar situation for real-life White House occupants, says presidential historian Thomas Whalen of Boston University: "Everything's provided for them - they really don't need money." The Secret Service agents who are on hand at all times can provide a loan if necessary. John F Kennedy "didn't carry any cash at all, even before he was president. His friends would have to foot the bill for the privilege of hanging out with him", says Whalen.
Others have been less parsimonious. A wallet belonging to George Washington contained a 1776 two-thirds dollar bill and a 1779 one-dollar bill until it was stolen from a museum in 1992. Abraham Lincoln was carrying a $5 Confederate bill on the night he was assassinated. In 1984 Ronald Reagan was once photographed paying for a $2.46 Big Mac meal with a $20 note, and his successor George HW Bush once showed his American Express card (plain green, not gold) to an eight-year-old who had reacted sceptically when informed that she was talking to the president. Some 14 years later, however, his son George W Bush told a Spanish-speaking journalist that all he had in his pockets was a handkerchief. "No dinero," Bush added. "No wallet."
The current incumbent - who earns $400,000 (£248,000) each year and has an annual expense allowance of $50,000 - has been filmed and photographed on numerous occasions paying for food with cash. In July he paid for a $300-plus bill at a takeaway barbecue restaurant in Austin, Texas, with a JP Morgan credit card (he was allowed to jump the queue). But now it appears that in New York last month the transaction wasn't so successful. Thankfully for the president, his wife Michelle was present on that occasion to pick up the tab.