Caption Challenge: Looking good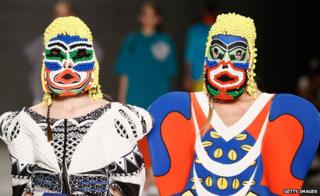 Winning entries in the Caption Competition.
The competition is now closed.
This week it's models on the catwalk at the New Gen II show during Mercedes Benz Fashion Week in Istanbul.
Thanks to all who entered. The prize of a small amount of kudos to the following:
6. John Orak:
That awkward moment when you realise someone else went as sweetcorn.
5. Tony Auffret:
I can't believe we both came to the fancy dress party dressed as the Venerable Bede.
4. Phil White:
Pablo Picasso's long lost Super Hero film finally sees the light of day.
3. Rodcar:
I told you we should not have eaten the full box of M&Ms.
2. Lee Brown:
"Be a model," you said. "You get to travel the world and look fabulous." Well look at me now. Just look at me. I hate you.
1. Samuel Richardson:
Mr & Mrs Gaga were always animated at parents evening...
Full rules can be seen here
[16KB]
Follow @BBCNewsMagazine on Twitter and on Facebook