Small Data: How much do by-elections cost?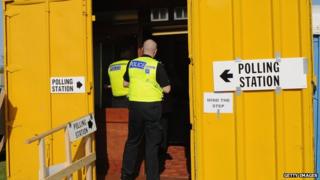 The average cost of Westminster by-elections since 2010 has been £239,529, writes Anthony Reuben.
Many thanks to David Cowling, head of BBC political research for pointing me towards this figure, which appears in a publication snappily called: Returning Officers' Expenses, England & Wales Statement of Accounts 2013-14.
This figure clearly does not include the costs of last Thursday's Clacton and Heywood and Middleton by-elections or next month's Rochester and Strood by-election.
The average expenditure is divided into two parts - the conduct of the poll and Royal Mail.
Conduct of the poll, which accounts for £135,666 of the average cost, pays for polling stations, postal voting and counting the votes.
The other £103,863 covers the postage costs for each candidate (if he or she wants) to send a letter to the household of everyone who is entitled to vote.
By-elections often have more candidates than there would be for the same constituency at a general election, which makes postage costs expensive. On the other hand, if a candidate doesn't get at least 5% of the votes cast, they lose their £500 deposit, which goes into the same pot of money from which the postage was paid, returning a small proportion of those costs.
By-elections generally have lower turnouts than general elections, which means the cost per vote cast can look expensive.
The highest cost on this measure was the Manchester Central by-election in November 2012, when only 18% of the electorate voted, meaning the election cost £15.90 per vote.
The average cost per vote for by-elections since 2010 has been £8.75.
The Cabinet Office points out that by-elections tend to be more expensive to administer because they are unexpected, so the returning officer has less time to plan.
That is reflected in the comparison with the General Election in 2010, when the average cost per constituency was £173,846 while the average cost per vote cast was £3.81.
Subscribe to the BBC News Magazine's email newsletter to get articles sent to your inbox.